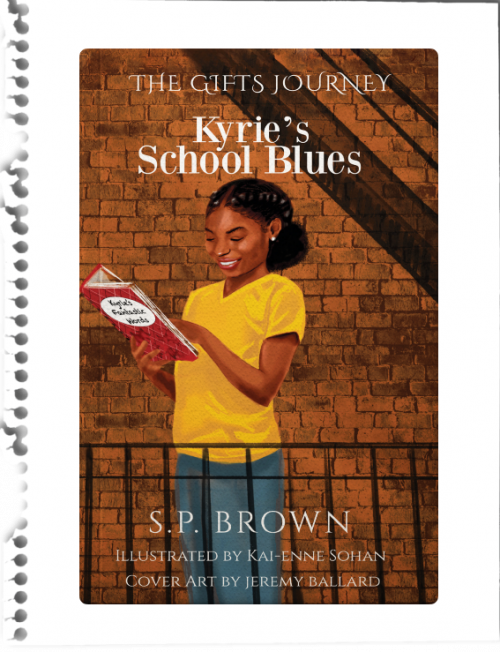 Meet Kyrie! She is an eight year old fourth grader who is intelligent and not afraid to show it.
Kyrie loves reading and building her vocabulary.
Homeschooled until age eight, Kyrie is eager to attend school for the first time to finally make friends.
But when peer bullying arises, Kyrie has to develop the confidence to devise a plan to stop the bullies in their tracks! Kyrie's School Blues Explores...​
Power of Reading & Vocabulary Building
Kyrie carries her special notebook, "Kyrie's Fantastic Words List" everywhere she goes!


Kyrie incorporates her growing vocabulary into her thoughts and conversations. 

Self Esteem, Character Building & Power of Friendship
Kyrie's experiences entering school epitomize some challenges children encounter when trying to fit into new environments and make friends.
Kyrie's optimism is momentarily quelled when she faces unanticipated bullying from peers.
Kyrie questions how to identify a true friend.
Kyrie introduces the Gifts in Brown Paper Packages concept; that there is value and strength found even in the challenges in life.
Resilience & Finding Her Voice
Confidence gained through a Storytelling Competition & encouragement from a true friend, aids Kyrie in finding her voice.  


By using her words to stand up to the bully, Kyrie begins to believe in the strength & value of her voice!
Praise for Kyrie's School Blues
Dr. Khalek Kirkland
Community Superintendent District 23 · NYC Department of Education
Kyrie's School Blues encompasses a plethora of the social and emotional learning themes so vital for elementary school literacy curriculums. It's an engaging multidisciplinary learning tool for young readers.
Monica Brock-Walker
Principal, Public School 49X, New York
At the mere age of eight, Kyrie encapsulates the power of perseverance, the strength to endure struggles, and the value of positive relationships. Kyrie's School Blues identifies with the relevance of many scholars that arrive in our classrooms daily.
Patricia Greaves
Educator and Girls Mentor
Kyrie's School Blues is an empowering story of a young girl finding her self-worth through the power of her words. In addition to the character building lessons, S.P. Brown's sophomore book provides rich vocabulary to build a well-rounded curriculum in elementary classes.

Amy McCoy
former elementary school educatior and award winning author of the Little Big Sister book series
Kyrie's School Blues teaches us about resilience and the power of believing in ourselves. A must read for all elementary classrooms.
Jamise Valentine
Elementary Educator
Kyrie's School Blues is a great read for jump starting a word study curriculum. Students will be able to make connections to Kyrie's story and understand why word knowledge is important and useful in their daily lives.